Oxnard Sinkhole Repairs
Work is underway to fill a sinkhole that led to some minor accidents over the weekend.

Drivers discovered the sink hole in front of Channel Islands High School early Sunday morning.

The intersection of Rose Avenue and Raiders Way was closed for most of the day. Oxnard crews pumped water out of the hole and covered up the 20-foot crack,

b

ut repairs are still needed.

Fortunately, the high school is closed all week for the Thanksgiving break.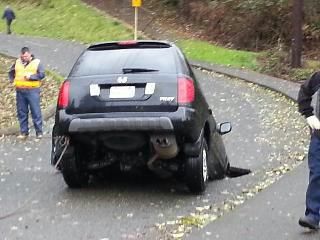 Sinkhole Suddenly Opens up to Swallow Moving car in Cosmopolis, Washington
KXRO Newsradio
Tue, 20 Nov 2012 06:41 CST
Power outages, standing water, broken limbs, and at least one sinkhole.

A driver in Cosmopolis was in for a surprise as they drove towards the hill on C Street. Right as they passed the entrance to Mill Creek Park, they fell into a hole in the road.

Mayor Vickie Raines says that the culvert underneath C Street collapsed and tried to swallow the vehicle.

The road to the hill has been blocked to traffic as crews wait out the storm and prepare to assess the damage.
Rockaway Residents Getting that Sink-ing Feeling
Dangerous sinkholes opening up in Arverne section of peninsula, locals fear street collapse
By Lisa L. Colangelo And Irving Dejohn
NEW YORK DAILY NEWS
Monday, November 19, 2012, 5:47 PM
If lack of power and flood damage wasn't enough, some Rockaway residents are getting the sinking suspicion that the ground just might literally cave in underneath them.

A cluster of sizeable sinkholes have appeared in the Arverne section of the peninsula, startling residents and one volunteer who documented all 12 of the noticeable indentations in the ground.

Storm recovery volunteer Steve Major picked up on a pattern of the holes as he was going door-to-door for a relief group last week along Beach 68th St. near Bayfield Ave.

"I'm extremely concerned that what's visible isn't the full extent of it," said Major, an engineer and construction worker who came from Phoenix to lend a hand in the aftermath of Superstorm Sandy.

Major began documenting the sinkholes, which in one instance went as deep as 10-feet and as wide as two-feet.

"Most sinkholes don't get discovered until there's a serious collapse and someone dies," he said. "I'd like to see if we can't get this fixed before a house falls in."

Locals along the storm-battered street — many of whom are still trying to rebuild their lives — were on edge after the discovery.

"My children noticed the holes in the backyard," said resident Tyeakia Miles, 45. "The police officers came and measured it. One was five feet deep."

The area is now "off-limits" to her four children due to fear of serious injury, Miles said.

Resident Adolfo Richter noticed three unmistakable indentations on his smoothly paved backyard shortly after Sandy struck.

After watching the entire basement of his property take on water, the crumbling concrete is insult to injury, he said.

After the deluge, the water must have gone underground, said Richter, 67. "It's down there somewhere and now I'm really scared."

The city Department of Environmental Protection was not aware of the sinkhole issue prior to the Daily News' inquiries on Monday, officials said.

"DEP has dispatched crews to inspect the sinkholes," an agency spokesman said.

Meanwhile, mother-of-two Danielle Hernandez said she fears for the welfare of her grandmother, who has the sinkholes in her backyard.

"It's nerve wracking," she said. "You don't know. The ground might shift."


note: Our Earth is Groaning, quaking, shifting, and holes are falling in... We are facing not only climate changes from above, but also earth changes from below...